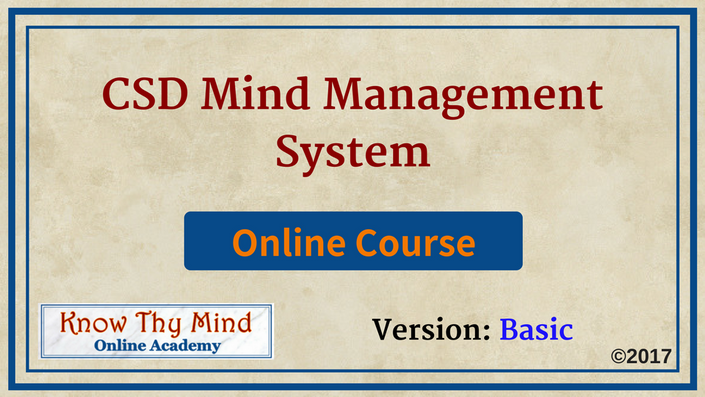 CSD Mind Management System (Basic)
Understanding your thoughts, emotions, and decisions with CSD (Conscious Subconscious Dynamics).
Do you ever feel as if your own mind is fighting against you? Have you ever procrastinated with tasks you wanted to accomplish? Does it sometimes feel as if your mind is pulling you in multiple directions? It can almost feel as if you are going crazy, right?
The truth is, you are not going crazy. It's just you were never given an instruction manual for your mind. You were never told how your mind really works. You were never shown the differences between your Conscious Mind and Subconscious Mind, and how those differences can cause inner conflicts. You were never given the tools for resolving these inner mental conflicts. Well, today you can begin a new path in your life that changes all of this and more.
Know Thy Mind has been designed to provide you with the ability to enhance any area of your life that's not at the level you desire, by teaching you the core strategies and tools of CSD (Conscious Subconscious Dynamics). In this course you are going to discover how to...
Resolve the conflicts between your Conscious and Subconscious minds.
Make better quality decisions by understanding the Reaction Cycle.
Align your Core Identity and your True Self for greater inner harmony.
Master your emotions by learning the 8 core reasons of negative emotions.
Develop your ideal self by enhancing your beliefs, rules, values, and triggers.
and much more...
If you want to understand and control your thoughts, emotions, and actions, then Know Thy Mind is the right course for you. You will be amazed with the person you can become and the goals you can achieve when given the tools of understanding how you mind works, and more importantly, how to enhance it.
Don't let this become another should in your life. Decide today that you are going to, once and for all, take charge of your life by taking charge of your thoughts, emotions, and actions.
You deserve to become more than you are currently living. You deserve to begin realizing your dreams. You deserve to find your own path of greatness. Free your ideal self, that you know is inside of you, just waiting to be unleashed.
This course is going to give you a wealth of knowledge regarding how your mind works, and the system for integrating that understanding so that you can begin utilizing it at a deep level. Sign up today and begin your new journey.
Below you will find the outline for this course and all the different concepts you will learn as you go through Know Thy Mind.
(note: The downward arrow opens the entire course outline for you to view)
Know Thy Mind
There are 3 versions of the Know Thy Mind course. They are Basic, Core, and Pro*.
Basic: This Course is designed to teach you all the aspects of how your mind works, including your thoughts, emotions, and decisions.
Core: This Course goes beyond the basics by providing you the tools and strategies for integrating and utilizing the knowledge of how your mind works in order to empower you to become your own life-coach by giving you the skills for creating your own Personal-Development.
Pro*: This Course expands upon the Core level with a focus on use in a professional environment. Here you will learn how the tools and strategies of Know Thy Mind (CSD) can be used by Life-Coaches, Therapist, and other mental professionals. This course will address issues such as anxiety, depression, addiction, and suicide. Upon completion of the Course, the student will become a certified CSD Life-Coach.
*(coming soon)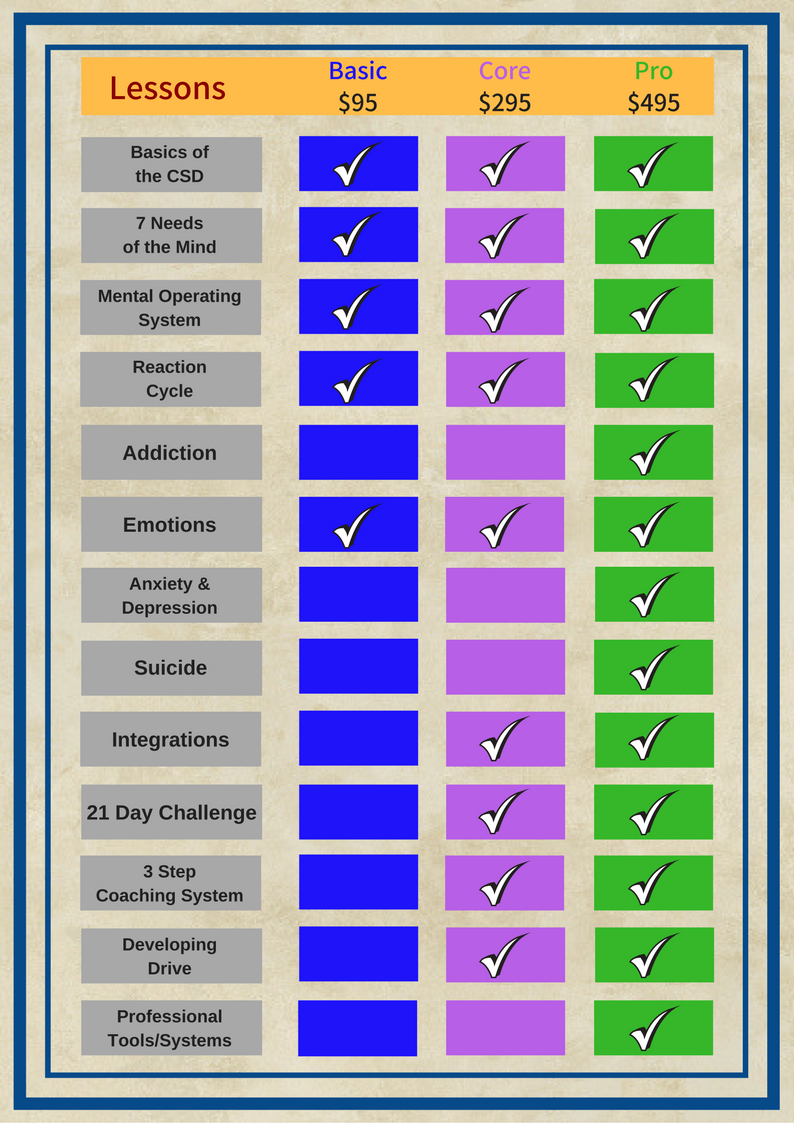 Course Curriculum
Getting Started
Available in days
days after you enroll
7 Needs of the Mind
Available in days
days after you enroll
Your Instructor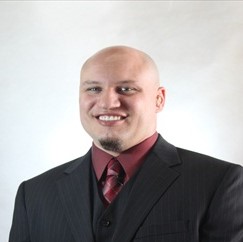 ---
---
Jeremy T. Jordan began his journey of exploring the human mind and personal development back in 1993 when he was just 18 years old. Over the years he would use what he was learning to help his friends and family deal with a variety of issues. One of his close friends suggested that he should be coaching people for a living, which motivated him to start his first life-coaching business in 2009 called "Why U Can Life Management".
Since that time Jeremy has helped countless people learn how to manage their thoughts, emotions, and decisions. Also in 2009 Jeremy developed his own mind management system as the bases of his coaching which he calls Conscious Subconscious Dynamics (CSD).
In 2017 Jeremy decided he needed to go beyond coaching and instead focus on teaching people how they can coach themselves. He founded a new company called Know Thy Mind. The purpose of this new company is to share the ideas and strategies of CSD in order to train people on how they can provide their own personal development.
Hello,
I want to say thank you for taking the time to check out my course. I know how busy life can become and I am grateful you are thinking of enrolling in Know Thy Mind. I realize you have several different choices when it comes to self-improvement systems. Many of them I have done myself.
What I am offering you with this course, is the accumulated knowledge of the 17 years it took me to develop CSD, as well as the years of Coaching people that helped me tweak and enhance CSD into the system it is today. In all, this course is over 20 years of my life, and it would be an honor to share it with you.
You might be thinking that this sounds great and all... "But will it work for me?" I can say with complete confidence that the ideas, tools, and strategies you will discover when you go through Know Thy Mind can work for you. I have seen amazing results first hand, with countless people dealing with a variety of issues.
If you want to take charge of your thoughts, emotions, decisions, and actions so that you can enhance any area of your life, then you have come to the right place. I promise you this course can produce more success, happiness, and fulfillment in your life. But...
In order to get these results, it is going to take some work on your part. This course is not a motivational "pump up". I am not here to make you feel better and to fill your head with thoughts of puppy dogs and ice cream. This course is about being real. It's about teaching you how the mind works and integrating that knowledge so you can actually use it.
Don't think this is going to be some type of easy, quick fix for your life. It isn't. This course will take time to complete. Know Thy Mind contains 14 hours of instructional videos, as well as an end of course 21 day challenge.
I want you to have the life of your dreams and to become the person you were meant to be. Yet, I can not do the work for you. However, if you go through this course and put in the work; you are going to be blown away with the results. The question is...
"What are you waiting for?"
Again, I want to thank you for being here. I hope you take advantage of what I am offering you. Enroll in Know Thy Mind today and start making your life a Masterpiece. Maybe in the future, I will get the chance to meet you and you can tell me all about it. Until then, have a great day.
Jeremy T. Jordan
Frequently Asked Questions
When does the course start and finish?
The course starts now and never ends! It is a completely self-paced online course - you decide when you start and when you finish.
How long do I have access to the course?
Once you are enrolling into the course, you will have unlimited access for as long as you like - across any and all devices you own.
What if I am unhappy with the course?
I would never want you to be unhappy! If you are unsatisfied with your purchase, contact me at
[email protected]
within the first 30 days and I can refund your purchase cost. Please note: A minimum of 25% of a course must be completed in order to qualify for a full refund. I also ask that if there was something about the course you did not like, to please let me know so I can make it better for future students (this is not required to receive a refund).